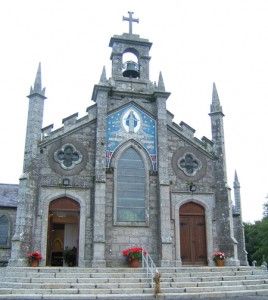 Sunday
9.00 am

First Friday
7.00pm
Holy Days
7.00pm
First Saturday of the month
4:00pm
Baptisms in Newtown Church First Saturday of every month at 4:00pm
"Very fine and important gothic church. T-shaped with a low ceiling; long transepts; very fine granite decorations, crenellations, pinnacles, beilcote, and crosses; two doorcases with quarterfoil over; transepts also decorated; three galleries; simple gothic reredos (similar to Ballon) contemporary with the church; good plaster work on the ceiling, with pretty good label-stops on the moulding on the windows (similar to Clonegal). This is one of the finest gothic barn-type churches in the country."
The ceiling immediately catches the eye and the motif of grape and wheat – ' Ears of wheat so fine and the grape that forms the wine' – is particularly appropriate- It is reputed to be the work of an Italian refugee of the last century. Tradition has it that he was afterwards deported to his native country while engaged on a similar contract in a Galway church. Great credit is due to our local painter, Percy Ryan for the very fine job of work done in restoring its natural colours when the church was re-decorated a few years ago. (Extract from a report on Newtown Church prepared by two architectural historians for the Irish Episcopal Commission for Liturgy and passed on to our late Parish Priest by Fr. Sean Swayne its National Secretary:)
Mainly oral tradition
According to Mgr. Conway it was burned in 1798.
Martin Brennan states that in 1819 School was taught in the Roman Catholic Church in Newtown as there was no school until 1834. Stone work in two buildings similar and said to come from the locality ( Gorman's lane in Kildrinagh) . The church was supposed to be a barn-type Church . Sean Swayne quoting an Architectural Historian says that it "is one of the finest barn-type gothic Churches in the country"
JAMES Murphy, Newtown died 15/5/1848 (Buried near vestry door) He is reputed to have been a great help transporting granite stone to the rebuilding of the church burned down in 1798.
Comerford in 1886 states " the chapel of ease in Bagenalstown at Newton was built in recent times." It is believed that the galleries, and side aisles etc. were added at that time.
Italian refugee artists are reputed to have done the ceilings. They also did Fenagh House.
The bell was erected c. 1900 as inscription on bell reads "M.Byrne, Bell founder, James' St. Dublin. Gift of John Me Grath Esq. Nurney 1900 Rt. Rev. Monsignor Burke P.P. V.F."
The roof was repaired and raised a little as timbers show around 1930 by a mail named Broughan.
In 1950's the Mosaics at the back of the altars and on outside were added.
Ryders, originally from Myshall are reputed to have made the Confession boxes at the turn of the century.
Newtown Church Bell
The following inscription is engraved on the bell on St Patrick's Church Newtown
M. Byrne, Bell Founder, James Street, Dublin.
Gift of John McGrath, Esq. Nurney 1900
Rt. Rev. Monsignor Burke P.P. V.B.
The bell itself weighs 10cwt. and the tongue 3 st.
Acknowledgement for information to Tom Kehoe Newtown for Contact Magazine in the 1970's
The Chalice in St Patrick's Church Newtown
James Hughes, Son of Martin and Catherine, Kildrenagh, Bagenalstown Parish, born 1853. Ordained to the Sacred Ministry 1878. Appointed Secretary to Bishop of Solford, England, for a very short time, later recalled to serve P.P. Myshall, died in August 1906, aged 53. Fullfilling his dearest wish that his Chalice – A Gift from his parents for Ordination, be returned after his death to St. Patrick's Church, Newtown, where it remains 128 years in Divine use in this year 2004.
Fr John Hughes, brother of Fr. James C.C. Ballyadams predeceased Fr. James, having died 1897. both Priests are buried in the Family Graves in Newtown, beside the Church as by their own wish. May the Rest in Peace.
Having given the history of the Chalice in Newtown Church, the beautiful Sanctuary Lamp is also due special mention, To the very day it is now 100 years lighting The Tabernacle August 1904 and donated by Fr James Hughes two years before his death to the Memory of this Parents. (K. Power)