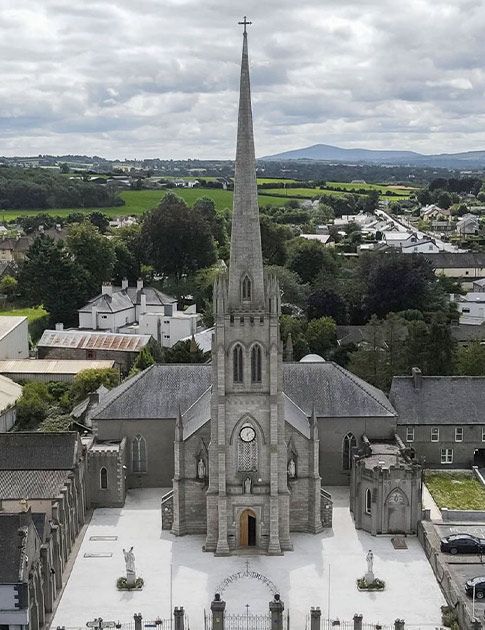 Masses at St. Andrew's Church may be viewed via webcam
Saturday Vigil
6.00pm
Sunday
8.00am, 11.30am and 7.30pm
Monday to Saturday
10.00am (Bank Holiday 10am)
Saturdays
5:00pm
Baptisms every Saturday of the month at 5:00pm in Parish Church
History
Phase 1.
1817 The Church in Dunleckney was closed and the Church in Bagenalstown was opened for Christmas Day 1820. The entrance was from where the window is on the Men's side. It probably went as far as altar. Some say that part of this was rebuild later.
Phase 2.
Renovated 1893 to what it is today, almost. The Steeple was added. Bernard Deegan, Royal Oak Road Chief Masons were Doyle's. It was opened by the Bishop of Waterford in Oct. 1893 by the then Bishop of Waterford. The Bishop of Kildare and Leighlin blessed the steeple
Phase 3.
Porches in side aisles were added c. 1917. Architect/builder was a man named Foley, a brother of Bishop Foley.
Phase 4.
Mortuary added in Mgr. Conway's time
Fr. Dowling renovated the Sanctuary c. 1978.
( Cobden never mentioned, people were only interested in the local people. The Land for the Church was given by the Newton Family, the successors to the Bagenals. They also gave the land for Newtown Church.)