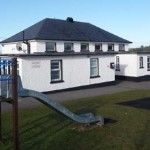 Garryhill has at present 37 pupils. The needs of these children are well catered for however by two teachers. The Principal is Liam Shinnors who has been teaching in the parish of Bagenalstown since 1987. Liam taught in St. Brigid's N.S. until 2000 when he took up the position of principal in Garryhill. Liam was joined in 2003 by Nicola O'Rourke, who teaches the children in the Junior classes. The two full time teachers are assisted by a visiting resource teacher and a shared learning support teacher.
The school building has two large classrooms, staffroom, office and general purpose room in the form of a new prefab which was erected in 2002. The main school building was built in 1936 by a builder called Rowley who also built the Garda Barracks in Bagenalstown. It was officially opened on 16h November 1936 by Rev. J Breen C.C.
The school was fully refurbished in 2002. The roof was replaced, a car park added. A complete set of modern school furniture was purchases. The toilets were upgraded to the most modern standard and the entire school was made wheelchair accessible. The playground was re-surfaced and a basketball court and tennis court were added. New doors and windows were added also and the attic was fully insulated. In 2010 a new heating system was installed and some fixed playground equipment was erected.
Garryhill has a proud sporting tradition and the football pitch which is part of the school grounds has been a nursery for some of the most promising GAA stars in the county. The children of Garryhill school have a close association with Garryhill Handball Club. Many past pupils of the school have gone on to represent their club and county at All-Ireland and International Level.
There is an active parents association in the school which provides funding for swimming lessons, educational and cultural outings and various pieces of school equipment. The staff in the school is supported by a strong Board of Management which has been chaired over the years by various priests of the parish.
The school is open for the enrolment of new pupils from about Easter time each year and the principal can be contacted at 059 9727355.