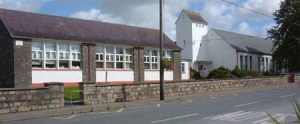 St. Brigid's National School – History
In 1865, Fr. Morrin, P.P. of Bagenalstown, had a new national school, St. Brigid's, built, on the site of the present school. It had three classrooms and a cloakroom. In 1868, he invited -Br. J. A. Hoare, Superior General of the Irish Christian Brothers to send Brothers to staff the school. He bought a home, adjacent to the school for £230. Br. Patrick Barry was transferred from Borris Idrone, to be the first Principal, and a teaching Brother and a lay Brother accompanied him. Fr. Morrin died in 1881 and he was succeeded as Parish Priest by Fr. O'Neill who had been P.P. in Graiguenamanagh. Relations between Fr. O'Neill and the Brothers, strained. The cause was money. The parish, was probably in, great debt at the time. St. Brigid's had been built in 1865. The teachers' residence in Ballinkillen had been enlarged in 1883 and a major reconstruction of St. Andrew's church was in progress. 'To make matters worse, £1000, which Fr.-Morrin had invested in the Hibernian Bank, for the upkeep of the Brothers, failed to pay dividends. Fr. O'Neill wanted the Brothers to register under the Board of National Education and have their salaries paid by the government. The Brothers refused and Fr. O'Neill refused to hold the annual collection for them. They withdrew from the school in 1886. A Mr. Conwell was teaching in the school up to 1893. In 1893, Monsignor Burke, the Parish Priest, who had been President of Carlow College, established St. Joseph's Academy and invited the De La Salle Brothers to staff both it and St. Brigid's National School. On September lst 1893 three Brothers arrived in Bagenalstown. They were Br. Gall Deasy, Superior and Principal of the school, Br. James Stakett and Br. Martin Crawford, cook and housekeeper. They began school on September 4th. 117 boys being present. A Mr. McSwiney, a classics teacher, aided them. Latin, was taught in the cloakroom as well as other subjects connected with the Academy. Some classes were also taught in the Monastery sitting room. The Academy became independent in 1896 when Mr. Terence Flood replaced Mr. McSwiney. As a matter of interest, Br. Gall, the Principal was 23 years of age and Br. James was 2 months short of his 21st birthday. It cost the parish £700 to bring the Brothers to the town. £196 of this was received when a special collection was made on October 9th when the renovated. St. Andrew's church was rededicated. Dr. Shennan, Bishop of Waterford preached the sermon on the occasion in the presence of Dr. Lynch, Bishop of Kildare and Leighlin. Unfortunately, there are very few references to school attendance after that. Any figures that I could find, refer to average attendance. This was calculated from the 1st of September of one year to the same date on the following year. Thus the average attendance for the following were.
| | |
| --- | --- |
| Year | Attendance |
| 1885 – 86: | 107 (That was the Irish Christian Brothers' final year.) |
| 1892 – 93 | 88 |
| 1893 – 94 | 112 (The De La Salle Brothers' final year.) |
| 1907 – 1908 | 178 |
All figures refer to boys over seven years of age. Because of the increase in the number of boys in the school, it was necessary to build extensions to both the school and the Monastery. To acquire funding for these extensions, through the Carlow Nationalist of Saturday February 22nd 1908, Monsignor Burke called a meeting of parishioners to organise this funding. At this meeting a committee was formed for this purpose. The members of this committee were:
| | |
| --- | --- |
| Samuel Ward, Esq. Co. C.J.P | James Aughney D.C |
| P. Hughes | Thomas Dowling |
| C. Cleary | John Jordan |
| P. Fenlon | M Shiels |
| Monsignor Burke | Br. James |
Lists of subscribers appeared in the Nationalist for some weeks afterwards. Subscriptions varied from £5 to 1s. Both, extensions were finished for the start of the 1909 school year. An extra large room was added to the school and three bedrooms, an oratory and community room were added to the monastery. There were now four Brothers teaching in St. Brigid's and the Principal was Br. Michael O'Leary. On November 11th 1915, Monsignor Burke died after a severe attack of pneumonia and was replaced as Parish Priest and manager of St Brigid's by Rev. M. Cullen. Br. Matthew, Principal, was transferred to Castlebar in January 1917 and was replaced as Principal of St. Brigid's by Br. Felix McCarthy, a native of Paulstown. The average attendance must have fallen in the years following 1909, because there is a note in 1918 which states that Br Matthew came from Waterford Training College because the average attendance had risen, allowing the appointment of a fourth teacher. This rise and fall in the average attendance seems to have been a recurring problem. For example there is an entry for October 1919 that states "The 'Flu' necessitated the closing of the school for six weeks in October and November. The effect of the influenza on the National School was a serious decline in the average attendance." Br. Vincent Duddan replaced Br. Felix as the Principal In 1921. Br. Matthew, who had been on the staff of St. Brigid's since 1918, died of scarlet fever on December 27th 1925. He was buried outside the door of Newtown Church, beside Br. Dominic who died on February 27th 1897. Br. Vincent resigned in 1926 and was replaced as Principal by Br. Luke Dunne, who was transferred to Kildare in 1927. Br. Luke was replaced by Br. Senaaus Francis Murphy who was Principal until 1931 when he was in turn replaced by Br. Luke who remained as Principal until 1942 when Br. Hilary Phelan replaced him. Br. Hilary was involved in the founding of Erin's Own Hurling Club. Br. Luke was very interested in local history and collected a great deal of material for the folklore commission.. A lecture he delivered at Colaiste Carman, Gorey on May 10th 1934 on the History of Fr. John Murphy's campaign in Carlow, Kilkenny and Laois is included in Fr. Peader Swayne's book "'98 in Carlow."
In 1932 the average attendance was high enough to employ a fourth teacher. In 1940 a fresh water supply was introduced into the school and new toilets were installed. The number in the school was 187. In 1943 St. Brigid's celebrated the golden jubilee of its connection with the De La Salle Brothers. Solemn High Mass was celebrated in St. Andrew's Church and all the priests and the Bishop, who presided were past pupils of either St. Brigid's or of St. Joseph's Academy. Most Rev. Dr. Keogh, Bishop of Diocese presided. Rev. T. Murphy, C.C., Stradbally was chief celebrant, with Martin Brophy, P.P. Ballinkillen as Deacon and Andrew Farrell C.C. Edenderry as sub-deacon. The Master of ceremonies was Rev. Tom Browne, (Coolnacuppogue), P.P. V.F. Portlaoise. He also preached the Jubilee sermon. Rev. Joseph McDonnell presided at the organ. Seventeen priests, all past pupils were in sanctuary. In 1944 the school was closed during the months of February and March because of an outbreak of Diphtheria in the town. On May 14th 15th, 16th and 17th the Operetta, "Once Aboard the Lugger" was staged by the pupils as part of the Jubilee celebrations but failed to make the deadline.
In 1946 an inter Primary school sports competition was inaugurated in Co. Carlow for the O'Duffy Cup. St. Brigid's won it six years in a row. In 1947 Br. Maurice Ward replaced Br. Hilary as Principal. In 1948 the Manager, Rev. Canon Lynam died and Monsignor James Conway who had been President of Carlow Ecclesiastical College replaced him. Br. Dermot O'Keeffe replaced Br. Maurice as Principal. From September 1954 to September 1955 classes were held in the McGrath Hall while this school was being renovated and refurbished. In 1958 Br. Dermot was replaced as Principal by Br. David Brouder. In October 1960 an extension to the school commenced. The work was finished for the reopening in September 1961. The extension consisted of three classrooms, cloakroom, staff room, toilets and two sheds. The cost was in the region of £14,000. Six teachers were appointed, as the number on rolls was 265.
Kevin Crowley was the first layman on the staff. He was appointed in 1961 and will be remembered for his tenor-role in The Gondoliers. He moved to Kildare in 1963 and died soon afterwards. His replacement was Liam O'Brien from Limerick, who moved to Garryhill after a couple of years and then to Dublin.
Another Limerick man replaced him – Brian Whelan. Mr. Liam Nolan now Principal in Newtown, joined the staff in 1967. Br. Finian was succeeded in 1971 as Principal by Br. Leo Looney who remained on until 1980. The other Brothers who taught in the school during the 70s were Ailbe O'Connell and Conleth Levins. Mrs. Anne Kinsella became a member of the staff in 1968 and Christine Somers in 1972. Michael Delaney now Secretary of the Leinster Council of the G.A.A was on the staff in the early 70's. Kevin Cuddy was on the staff from 1975-1976, Pat Kavanagh 1973-1978 and George Darcy now Principal of Our Lady Queen f the Universe 1975-1990. Marie Quirke joined the staff in 1978 and Martin Farragher from 1981-1987.
Br . Leo was succeeded in 1980 by Br. Francis McCallig. Br. Conleth Levins died in 1983 and Br. Francis was transferred to Dublin in 1992. The present principal Hamish Beaton came to the school in 1983, Sean Hanafin in 1990 and Joseph Hanafin in 1992. As well Liam Shinnors came in 1987 , Gearoidin Ni hEidhin in 1990 and Mary Dore in 1991.
The following are former pupils of St. Brigids who joined the De La Salle Brothers.
Br. Arcadius Ryan, Corries R.I.P
Br John Kavanagh Skibbereen.
Br. Ben O' Hanlon from Paulstown now Assistant Provincial.
Br. Patrick Walsh from Dunleckney now teaching in Ballyfermot.
Br. Ultan Bolger, Royal Oak, R.I.P.
Br. Eugene Donegan, the Lock, who gave many years of service in Australia R.I.P.