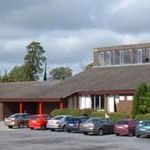 Mission Statement"This school aims to be a caring community dedicated to the development of the
whole person in an atmosphere of mutual respect."
THE COLLEGE
Established in 1983, this Catholic College is under the trusteeship of the De La Salle Brothers, the Presentation Sisters and Bagenalstown Parish.
TEACHING STAFF
Our tour hundred and fourteen pupils are taught by thirty highly qualified and dedicated teachers. There is a PE. Teacher, Resource Teacher, Guidance Counsellor, Learning Support Teacher and a Home School Liaison Officer. Teachers are assisted in their work of religious education by Catholic and Church of Ireland Chaplains.
TEACHING PHILOSOPHY
Traditions of excellence and the expectation that pupils will achieve their potential are combined with modern thinking on student achievement to ensure a quality education. In the Junior Cycle core class groups are organised on a mixed ability basis but with access for all students to higher level papers in the core subjects of Irish, English and Mathematics. Ordinary and Foundation levels are also provided in these subjects. Students are encouraged to take the highest level suitable tor them. All teachers are engaged in ongoing updating of their skills.
ORGANISATION
All Junior classes have a Class Tutor who takes a special interest in the pupils of that class. Each Year Group is under the care of a Year Head.
FACILITIES
The school is well laid out on a seven acre site which includes playing fields and basketball courts. There is a fine general purpose / P.E. Hall, a Computer Room with modern CD Rom technology, a Library with lunchtime access for all students to the Internet, three well-equipped science laboratories and a science lecture theatre in addition to specialist rooms for construction studies, technical drawing, typing, ait. cookery and textiles. After-school study is available tor those who wish to avail of it and a Homework Club is provided lor First Years.
THE CURRICULUM
There is a Six-year Cycle. Students are prepared for Junior Certificate, the Established Leaving Certificate and the Leaving Certificate Vocational.
JUNIOR CYCLE:
Core Subjects: Irish, English. Mathematics, History; Geography, Civic Social and Political Education, Physical Education. Religious Education, Social. Personal and Health Education.
Optional Subjects: French. German, Science. Art, lechnica! Graphics, Materials Technology- Wood, Home Economics. Business Studies. Music.
SENIOR CYCLE
Transition Year Programme
This is a one year programme for pupils immediately after Junior Cycle. The emphasis is on learning by doing. Work Experience and Enterprise are an important part of this education programme, giving students essential life skills and the maturity to make informed choices when they begin their Leaving Certificate programme.
Subjects: Irish, English. Maths. R.E., P.E. (including Bowling. Cricket, Dance, GAA Coaching. Outdoor Pursuits, Pitch and Putt, Swimming), Enterprise, Careers, Continental Music, Studies, Key-boarding, Law, Life-skills, Media Languages, Drama, Environmental Science Studies, Information Technology, Self Defence, Bridge.
Established Leaving Certificate
Core Subjects: Irish, English. Mathematics, Physical Education,. Religious Education, Careers, Information Technology.
Optional Subjects: Physics, Chemistry, Biology, French. German, Art, Music, History, Geography, Home Economics, Accounting, Business,. Technical Drawing, Construction Studies.
Leaving Certificate Vocational Programme
In addition to the ordinary subjects taken tor Leaving Certificate, students following this programme take modules in Enterprise Education and Work Experience.
SPORT AND CULTURE
Sport is ven significant in the life of the school and there is a strong tradition of success. Athletics, Badminton, Basketball, Camogie, Gaelic Football, Ladies Football, Table Tennis, Hurling and Soccer are promoted by our teachers.
Cultural activities include Choral Singing, Drama, Debating (in several languages), Public Speaking, Quizzes (subject based and general). Educational Tours and trips to plays, exhibitions and museums. The school has participated in Exchange Programmes with schools in France and Germany.
A musical presentation has been staged almost yearly since the College opened. Most recent productions were:
Guys and Dolls
Pirates of Penzance
Annie
The Wizard of Oz
Students attend open days and seminars related to their career choice.
REGISTRATION FEE
In order to defray the costs of extra-curricular and other school activities parents are asked to make an annual contribution of €45 per child. This is payable in May. Ib allow the wide provision of activities in Transition Year a larger contribution is requested in that year.
SCHOOL REGULATIONS AND UNIFORM
It is a fundamental principle that school regulations regarding uniform and conduct are observed by all students. Students and parents accept these regulations as a precondition for admission to and continued attendance at the College. F.ach student is expected to have a college diary which parents are asked to check regularly.
ENTRY REQUIREMENTS
Students must satisfy the requirements of the Department of Education regarding age and education. Before enrolling they must agree to accept and observe fully the regulations for students of the College. They must attend at the College with their parents for enrolment. After enrolment, the abilities and aptitudes of students are ascertained by written tests, so as to ensure that these abilities and aptitudes are catered for as far as possible.
ENQUIRIES
Further information regarding the College is available from:
the College Principal: Mr John Keane
Telephone: 059-9721860
Fax: 059-9722558
e-mail: pdlsb@eirconi.net
* The details may change due to circumstances and needs.
History
The Old Secondary School Built in 1900. A Technical and Intermediate School was started in 1901 where technical subjects such as Experimental Science, Drawing, Cookery, Laundry, Embroidery, Lace making, Dressmaking and Music were taught. In October 1902 a house and garden was purchased on the opposite side of the side of the street to be used as a Technical and Intermediate school. August 1926 the secondary was repaired and enlarged.
The school continued as Presentation Secondary School until June, 1983. Then 1st September 1983 the new Presentation/De La Salle College opened for girls and boys.
The last Principal of the Academy Brother Damien Kellegher, was the first Principal of the new college. He had been closely involved with the planning and the building of the college, enjoying a unique relationship with the architect. His was the steady hand on the helm during the early years which ensured a smooth integration of the staffs of the two old schools, and it was he who helped greatly to set the standards for the college and to encourage the attainment of high levels of achievement. Brother Damien was succeeded as Principal in 1988 by Brother Norbert Devine, under whose leadership two pre-fab classrooms were added (an extra Science Room and a Business Studies Room). Brother Norbert left us in 1992 and was replaced by Brother Philbert Cronin. Br. Philbert retired in 1995 and Mrs. Anne Keating was appointed as the college's first lay Principal.
For the first 10 years some Sisters and Brothers held staff positions in the school until this was discontinued, due to shortage of Religious. Now the school is managed by lay staff.
Mrs Anne Keating, a past pupil of Presentation Convent, Carlow, was appointed as the first lay principal of the school in 1995. Anne is an educator in the true sense of the word. Her principles are based on gospel values. Her priority, like Jesus' is the "little people", the rejects in the academic system, the victims of broken homes and the less able pupils. Her compassionate care gives life to the needy. Christ's fabulous agenda (John 10,10): "I have come that you may have life and have it more abundantly", is Anne Keating's agenda. Pupils are not problems to be solved but persons to be formed, freed an loved. She knows that "they who instruct others unto justice shall shine like stars for eternity".