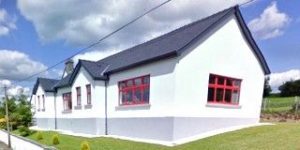 Our Lady's National School is a modern, welcoming school set in the heart of the County Carlow countryside. We have two classes ranging from Junior Infants to 2nd class and 3rd to 6th class. We have a Special Education Teacher and Special Needs Assistant. Our school is greatly supported by our Parents Association.
Each classroom has an interactive whiteboard and is equipped with an extensive library, and laptops for the children's educational use. We have a beautiful garden with Buddy Bench, basketball court, large playing field, a veggie patch, colourful shelter, and playground equipment.
One of the many benefits of being in a small school is that everyone knows everyone, and we all look out for one another. Small class sizes allow children to develop greater self-confidence, and their strengths and needs are discovered and nurtured. We encourage individuality, diversity, team-work and a community spirit.
School Tours, Grandparents' Day, Fun days, Sports Day, World Book Day, Lá Glas, and Active Schools Week are just some elements of our school calendar!
Science and Maths – We have won awards for significant engagement in STEM subjects (Science, Technology, Engineering and Maths). We participate in Maths Week, Space Week, Science Week and Engineer's Week each year.
Creativity – We endeavour to develop a love for the Arts in our school. We take a trip to see the Gaeity Panto each year. Every second year we participate in Funky Kids – a singing, dancing, drama and confidence-building workshop – which concludes with a spectacular show. Professional music teachers join us each year for choral and instrument instruction. Visual Arts (Painting, Clay, Drawing, Crafts etc.) are developed in line with the primary curriculum and we display the children's artwork around the school.
Sports – Children get a taster for various sports throughout the year with visiting coaches and their class teacher, varying from Gaelic Football and Hurling to Tag Rugby and Basketball, Gymnastics and Orienteering. All classes are brought to swimming lessons each year.
Well-being – Teachers strive to create a happy learning environment for the children. Surrounded by nature, we also have ample outdoor learning opportunities. The children's well-being is developed through relaxation and mindfulness activities, gardening, yoga and opportunities to play together in a safe, relaxed setting.
If you are interested in enrolling your child or children in Our Lady's NS, we welcome you to contact us on 059 914 6297, or nurneyns@gmail.com. You can also make an appointment to visit us to have a look around and ask any questions you may have.
The History of Our School
Nurney, An Urnaidhe means the oratory or place of prayer. It is a small rural village and townsland situated on a granite ridge. It is 8 miles (approximately) south of Carlow town. As the name suggests there was a monastic settlement here in the 4th / 5th century but never a school until 1788.
The landlord of the area at that time, John Bruen, built the village. Almost immediately he built a Church, St. John's Church of Ireland and then a schoolhouse for his village. This school was a large 3 storey building situated on the crossroads, in the village. This is an unusual crossroads as the four buildings face the four cardinal points.
This school had 70 to 80 children in attendance in that era. It was a mixed school. t that time the majority of children in the village and surrounding areas were Church of Ireland so the school was very suitable. s years went by, especially after 1900 things changed. The population at this time was now a minority of Church of Ireland religion and a majority of Catholics
Children of the Village and nearby townslands had no school of their own. They had to travel to schools some in the adjoining parishes of Tinryland, Leighlinbridge, Bagenalstown or Newtown. All of these schools were 3-4 miles away.
In those times, Catholic children did not usually attend a school of different denomination but some of the children from this village did. The children who did this received no religion classes, so each Saturday morning a teacher living in the village gave Religious instruction to the boys and girls about to receive the sacraments. When children had to walk long distances to school, their attendance records where poor. In fact before getting Confession, Communion or Confirmation were the only times that an all-out effort was made to attend school.
During the 1940's a new parish priest Monsignor Conway came to the parish. He was a caring person. He saw Nurney Village and its children as forgotten people. No School he felt that this should not be. He was not prepared to accept the fact that all children in his parish did not have the same opportunities. So he set about the difficult task of procuring a school for Nurney. He visited the Department of Education offices numerous times, asked local politicians to help, got a site, but still nothing was happening – just promises of a school some time in the future. We are told that in 1950 he visited the Department offices once more and said he would not leave until the Nurney school was brought near the top of the building list. It happened plans to build the school took shape.
Newspaper cutting from the Nationalist & Leinster Times Ltd dated 11th January 1952
SCHOOLS- Mass celebrated by Magr. Conway on Monday, marked the commencement of classes at Nurney's new school. There are about 30 children on the rolls
The school was built in 1951 and opened its doors on January 7th 1952 for 29 pupils. That was a historic day. Now children had their own school. They were no longer scattered in different areas. Pre-1951 neighbours' children often attended different schools. This was not good for community life. We think that the school bonds the community. The original plan was to build the school in the village on the Tullow Road, but the land deeds could not be sorted out. Each house – owner in the village owned "quarters", When the village was built each tenant got a "quarter", (1/4 Irish Acre) to grow vegetables and potatoes. The donor of the school owned 2 quarters on the Augha Road and he donated this land to the parish for the school site.
The View – Our school is built on the Nurney Ridge which overlooks the Barrow Valley. There is a brilliant view of the surrounding countryside. We can see the Old Leighlin Hills and Rossmore Hills. On the skyline you can see rows of conifers in the forestry plantations. We often try to count the many shades of green that are visible. In Autumn the yellow and golden fields of corn are like patchwork among the green fields. The Original Building was one room, a small cloakroom area and a teachers cloak room.
The Old Building – The building contractor was P. J. McCall, Tullow. There was also the play shelter and to the rear of this were the dry toilets (only used when really necessary). At the end of the play shelter was a little shed for the fuel (coal). In the classroom there was an open fire on the hearth. Once the school was open the numbers grew and in 1956 a second room was ready. Now there were 2 rooms, a cloakroom and a teachers' cloakroom.
In 1961 it was decided to build indoor toilets. Now it was really modern – flush toilets, water on tap and a lovely play shelter. The school was still very cold. Board of Managements were in each school now. Our 1st Board of Management were brilliant. They decided to install central heating. The Monsignor who had done so much for the school did not approve but still the heating was installed and later E.S.B. was in each room.
The whole school was built using mass concrete. Shutters were used for building the walls. These shapes or shutters were filled with cement and allowed to set. When dry they were removed and a second row was built. This method of building walls is now mostly used for farm buildings. With this type of wall it's nearly impossible to put in a nail (you need a drill). It also makes the building colder as there is no insulation. The roof is slated – black / bluish in colour. The finish on the walls is a rough dash now painted white. The plinth, pipes and chutes are all grey. Original windows were made of deal. They were replaced by teak windows on the back and later the front ones were replaced by P.V.C. windows. Cloakrooms were converted into staff room / office / remedial classroom. Hangers were put in the hallway for coats.
Front Door – We know this is the original door. The latch type handle is still on it, but a yale lock and mortice lock were added for security.
The Shed – The Shed is part of the original building. It is not used for lunch eating now. Part of it was walled off to make a store for school property. At the end there is a little shed which stored fuel.
The Statue – Statue on the gable end was placed on the wall during the Marian year.
The Historical and Cultural Aspect of Our School
The historic and cultural significance of our school is major. While it may have a short history it is a very worthwhile one. Our school brought to the area a place of learning and a tradition of Education – previously not there. This tradition had a difficult beginning. In 1952 many of the children up to 11 years of age were unable to read or write. On the Inspector's first visit he suggested cailc and clairins for children up to third class.
Children found it hard to have to attend school regularly as they were accustomed to long absences. Over the years this has all gradually changed. Our school has now a brilliant attendance record. In the 50's and 60's very few children attended second level schools. Now all children complete 2nd level and many of them pursue 3rd level courses
In this school we learn of our heritage, our traditions, language, song and poetry. We are taught to be proud of our culture – firstly by being proud of our school and then our village and our country.
The building of our school brought to Nurney a means of being part of a community – without our school our very old village would have disappeared. Our school is the only public building in the village. It is not just a school. It serves as a meeting place for the G.A.A. clubs; Soccer club; Residents committee; Field Day committee and Fund Raising committees.
A whole-school renovation and building extension in 2008 has completely modernised the school.