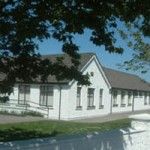 History of Education in the Newtown area
The following is an article about the written by Eamonn De Paor for the Contact magazine in 1973.
During the past year we have heard that the Department of Education had put forward a proposal to close the primary schools at Garryhill, Newtown and Nurney and to build one large modern central school for the children of that area. Dr. Martin Brenan's "Schools of Kildare and Leighlin A.D. 1775 – 1835″ contains many interesting details of the educational facilities in existence in the same area about 150 years ago. I shall outline some of them in this issue and hope to continue them in a future one.
NEWTOWN school was opened in 1819 The teacher, Moses Walshe. was of excellent character, a Catholic and educated in Co. Wicklow. He taught the 3 R's, English Grammer, Accounts and some Mathematics. There was no fixed salary but he was given a grant of £5 by the Education Society for the year 1823. As there was as yet no school-house, classes were held in the Catholic Church. It was estimated that it would cost the then princely sum of £150 to build and furnish a suitable premises that would also include a dwelling place for the teacher. Wm. Even Fitzhenery Esq of Ballywilliamroe was Patron but the parish priest had the school under his inspection. The Douay Testement alone was used – there were 16 copies of it. For the year 1824 the average attendance was 79 out of a total on rolls of 121. (To-day 1973 there are 91 on the rolls.) Five of this 121 were Protestants.
Records still in the school (1973) show that the present school was built in 1834 and that up to 1929 there were two separate schools – boys downstairs and girls upstairs. The last Principal Teacher in the Girls' school was Mrs. Morrow, mother of Mrs. Lillis of Lumclone House.
The late Joseph Smyth, Ballybromhill, who died in 1962 at the age of 86, told me that in his time as a pupil the school had an earthen floor. It is known locally that the school was held at one time in the Ryder home quite near the present school. Michael Ryder (R.I.P.) often pointed out to me where the school entrance door had been built – in the gable-wall behind his bench, in his carpenter's work-shop. The teacher was John Molloy.
RATHEADON school, too, was opened in 1819 with the approbation of the Parish Priest. The teacher in 1824 was John Murphy and he had as assistant Peter Corcoran, whom, I suspect, was the same Peter Corcoran who conducted a Hedge School in Dunleckney in 1819 with the approval of the Parish Priest. John Murphy was a young man of 24 years in 1824 and 'was passing rich on £3 a year'. He held school in his father's dwelling; clay walls and thatched; two small windows, a small table with a few planks or kind of forms; the dimensions 19ft by 10. Here there was no patron and the Parish Priest was the complete authority. The average attendance for 1824 was 50, all Catholics. From enquiries we cannot be certain that John Murphy was a relative of the present Murphy family of Ratheadon. Paddy says the question was asked too late. What a pity we did not ask it while his father, Robert John, was still with us. But Paddy feels that if there had been a family connection he would have heard it. However there is a tradition in the family that the old school was on the spot where Murphys land joins Thomas Fenelon' s (formerly Caleb Miller's)