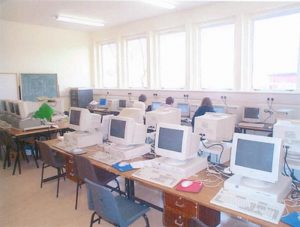 Muine Bheag Vocational School opened in 1963, being, until the establishment of the Gaelcholaiste in Carlow, the last second level school established by Co. Carlow V.E.C. The initial enrolment of students was 98 and the school's first Principal was Mr. Daniel Canning. There were then five classrooms and four full-time teachers and one part-time teacher. Within two years an extension became essential, as enrolment had climbed to over 200. As numbers increased during the seventies, additional pre-fabricated classrooms were also built.
At first, the school provided Group Certificate and Secretarial Courses as well as night classes. The Intermediate Certificate was introduced in 1969 and in 1971 the first Leaving Certificate students sat the examination. Students from Borris Vocational School at that time transferred to Muine Bheag to complete the senior cycle. Enrolment in the school peaked at about 350 in the mid seventies.
The late seventies featured a series of Public Lectures/Debates on historical and political themes featuring prominent personalities such as Brian Farrell, Olivia O' Leary, Seamus Brennan, Maurice Manning, an tAthair Micheal Mac Greil, etc. A comprehensive series of night classes has always been and continues to be a feature of the school programme.
In 1980 a senior cycle started in Borris Vocational School and three years later a new co-educational secondary school opened in Muine Bheag. These two developments coincided with some decline in numbers in our school, but more recently there has been an increase again. In 1988 Mr. Edmund Burke was appointed Principal and Mrs. Martha English was appointed Deputy Principal of the school.
Developments in the school during the 90's have included P.L.C. Courses in Computers, Art, Metalcraft, Woodcraft, Childcare, Interior Design and Furniture Restoration. These courses are certified by FETAC.
The introduction of Building Construction as a subject in Leaving Certificate was another development as was the introduction of L.C.V.P. In the Summer of 2000 a total refurbishment of the main building took place resulting in a new Kitchen, Science Room, Woodwork Room, Metalwork Room and ComputerRooms. The school was rewired and the heating system was updated. The school was refurbished under the Health & Safety guidelines for the work place. We now work in a pleasant environment with all the best of equipment and technology at our disposal.
The Curriculum
The school offers a wide range of subjects for both Junior and Senior Level Examinations.
Junior Cycle
In First Year students have the opportunity of studying all subjects.
Core subjects studies are :
| | | | |
| --- | --- | --- | --- |
| Religious Education | Irish | English | Mathematics |
| History | Geography | Science | |
Other subjects studied are :
| | | | |
| --- | --- | --- | --- |
| Art, Craft & Design | French | Business Studies | Materials Technology Metal |
| Technical Graphics | Home Economics | Materials Technology Wood | Civic, Social and Political Education |
| Health Education incorporating Relationships & Sexuality Education | | | |
In Second Year students make their choices for Junior Certificate. Students with special needs are given extra English and Maths tuition for their Junior Certificate.
Senior Cycle
The curriculum for Senior Cycle students includes the following subjects :
| | | | |
| --- | --- | --- | --- |
| Religious Education | Career Guidance | Irish | English |
| Mathematics | Geography | French | Link Modules |
| Biology | Physics | Business | Home Economics |
| Technical Drawing | Construction Studies | Engineering | Art |
Extra Curricular Activities
Muine Bheag Vocational School provides a wide range of extra curricular activities and students are encouraged to participate in these.
Sports
Gaelic Football – The school participates in U-14 , U-16 and U-18 Leinster Schools competitions. Football coaching is provided for girls.
Hurling -Teams are entered in the U-14, U -16 and U-18 Leinster Schools competitions each year.
Soccer – The school is affiliated to the Football Association of Irish Schools and teams are entered in the U-15 and U-17 competitions.
Athletics – The school participates in inter-school athletic competitions such as cross-country and track and field events.
Sports Hall – It is our long-term ambition to have a sports hall with proper PE facilities.
Public Speaking
School terms are entered in inter-school public speaking competitions.